Last Update: October 19, 2016
Art Therapy Resources

Welcome to the Addiction and Art Website
The Art Therapy Resources page provides links to web sites that may be helpful to those who are looking for ways to use art to help in recovery programs.
We are always looking for new sites to feature here so if you have any suggestions please send them along to editor@addictionandart.org.
Art Therapy Resources
---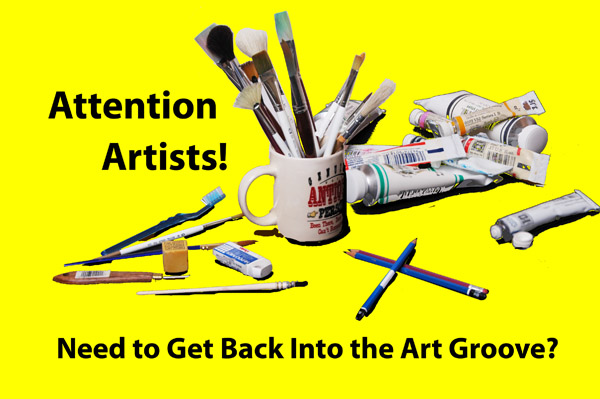 If a period of substance abuse has recently hijacked your art endeavors here's a simple and easy way to get back into your art groove.
Select a simple object that has meaning to you (something smooth, no lettering or numbers on it).
Draw or paint the same object every day for 20 days. No one has to see it but you - so don't worry about quality. And, do not worry about time. 10 - 60 minutes a day is fine.
At the end of the 20 days, check your skill level with the first drawings/paintings - hopefully you will witness a return of your skills and a return of your confidence.
When ready, consider moving forward to participate in the Recovery Art CHALLENGE on this site. Deadline is February 1, 2015!
(9/23/2014)
---
An infographic from The Oaks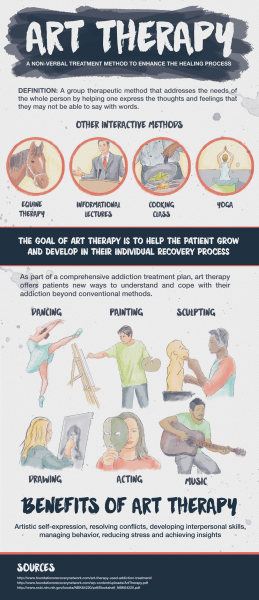 ---
Power of Art Use in Therapeutic Settings
Alta Mira Treatment Center, California
Blog Post, November 3, 2015
The following blog post from Alta Mira discusses the power of Art in recovery programs. It is an excellent and insightful read with art illustrations.
http://www.altamirarecovery.com/blog/creating-recovery-the-healing-power-of-art-therapy-in-addiction-treatment/
---
THE RHIZOME NETWORK
The Rhizome Network is an unique treatment approach for the treatment of substance abuse. It is an attempt to connect together the varied voices of individuals, groups and institutions as they work toward such goals as described above. The aim is not to publish information upon this site (though some of that will occur), but rather to connect to online links which are already in operation. (5/22/2011)
---
ART AS A THERAPEUTIC TOOL
Two Perspectives of Product vs. Process Video
This film highlights the use of art as a therapeutic tool. Two perspectives are showcased within this film: the perspective of an art educator who works with adolescents and the perspective of an art therapist who works with the adult developmentally disabled population. (5/22/2011)
---
CURRICULUM GUIDELINES
While curriculum guidelines for educators may not apply to independent therapy, the guidelines developed by Florida State University may be helpful. The guidelines include informational articles, lesson plan suggestions, a glossary and sample artworks that can be adapted to non-educational settings. (5/22/2011)
---